History of RPMS
Prepared by
Sam Habiel, Pharm.D.
Director of Technology
VISTA Expertise Network
Seattle, WA

This work is licensed under a Creative Commons Attribution 3.0 United States License.
About this article
Resource Patient Management System (RPMS) is the Electronic Health Record used in Indian Health Service (IHS). A full bibliography can be found at the end of the article.
Background
Sources: Dr. Curtis in book and the IHS website
IHS is part of the US Department of the Health and Human Services (HHS), like the National Institutes for Health and the Centers for Disease Control (CDC). It exists to provide health care for Native Americans.
From the IHS website http://www.ihs.gov/aboutihs/:
The provision of health services to members of federally-recognized tribes grew out of the special government-to-government relationship between the federal government and Indian tribes. This relationship, established in 1787, is based on Article I, Section 8 of the Constitution, and has been given form and substance by numerous treaties, laws, Supreme Court decisions, and Executive Orders. The IHS is the principal federal health care provider and health advocate for Indian people, and its goal is to raise their health status to the highest possible level. The IHS provides a comprehensive health service delivery system for approximately 2.1 million American Indians and Alaska Natives out of the total 3.4 million who belong to 566 federally recognized tribes in 35 states.
Currently the federal IHS sites consist of 28 hospitals, 61 health centers, and 33 health stations. In addition, 33 urban Indian health projects provide a variety of health and referral services. Through P.L. 93-638 Self-Determination contracts, American Indian Tribes and Alaska Native corporations administer 16 hospitals, 235 health centers, 75 health stations, and 164 Alaska village clinics.
IHS's budget is around $4 billion.
RPMS is used in all IHS sites and many tribal sites.
A history of RPMS precursors.
RADEN
Sources: Bill Mason, Jim Garvie, Clayton Curtis
The very first computer system used in IHS was the Remote Access Data Entry Network (RADEN) deployed in 1974 [CC]. Its sole purpose was to administer the IHS Contract Health Program [BM] (for more, see http://www.ihs.gov/newsroom/factsheets/contracthealthservices/). RADEN was used to capture information for contracting and billing with outside providers delivering services to IHS patients and to print authorizations for those outside providers to render their services.
RADEN was written in assembly language and ran on NCR mini-computers at the area offices. Data entered into RADEN was transmitted to the NPRS (National Patient Reporting System) in Albuquerque, NM.
In later phases, RADEN was also used to enter Ambulatory Primary Care (APC) data into the system for transmission to NPRS. APC forms were essentially bubble sheets filled by the providers and sent to area offices for keying into RADEN.
The main historical significance of RADEN as it relates to RPMS is that it brought computers into the IHS area offices. It was not a mainly clinical system.
Today, RADEN's function is performed using the RPMS CHS and RCIS packages.
Planning for PCIS
Sources: Greg Shorr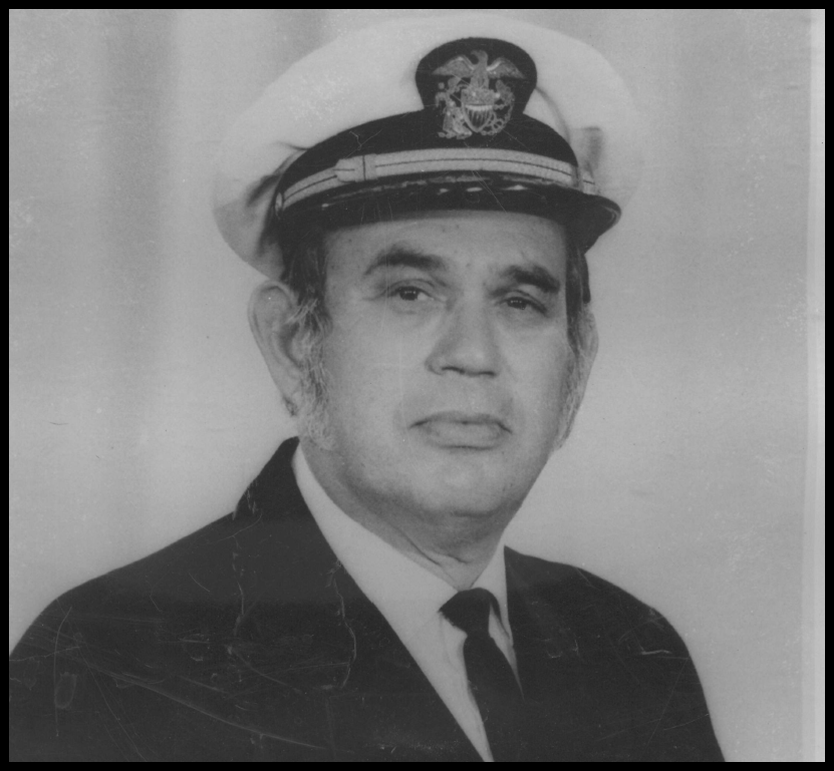 PCIS started with Stu Rabeau. In the late 50's, he was the only physician in Northern Alaska. To get to his patients, he had to fly to them. Dr. Rabeau eventually became the Area Director for Alaska, and then the Head of Indian Health Service. He had a vision of using emerging computing technology in health. To that effect, he established the Tucson Office in 1963, and appointed himself as the head of the Office of Research and Development. To staff his new office, he looked for talent, and managed to recruit NASA scientists who needed jobs after the conclusion of the Mercury Project.
In 1967, the office leased an IBM 360 from Bell Aerospace. Their program focused on Disease Modeling as its main objective. After a talk from Larry Weed regarding an approach to medical documentation (since then known as the problem oriented medical record), the first system was designed around Encounter Purpose of Visits and Chronic Problems. Go-live for the system was in 1969. Ted Garret was the original programmer, and the system was written in COBOL and Fortran.
HIS and PCIS
Sources: Bill Mason, Clayton Curtis, Ted Garrett's paper, Greg Shorr
Development of its first true clinical precursor (Health Information System—HIS) was started in 1967 by Dr. Ted Garrett at Bell Aerosystems as part of a project of the IHS Office of Research and Development located in Tucson, Arizona. Much of the software was prototyped at the Tohono O'Odham Nation. HIS was renamed to Patient Care Information System (PCIS) when it was moved to IHS servers in Albuquerque in the 1970s from Bell Aerosystems.
PCIS consisted of a COBOL program running IBM 370-145 mainframe against IBM Model 204 database and followed a problem-oriented medical record. Physicians filled in triplicate encounter forms which were entered by clerks into the mainframe; health summaries were printed and mailed back to the clinic. Updated health summaries were sent back every two weeks to the clinics. The Tucson area had on-line access to the system.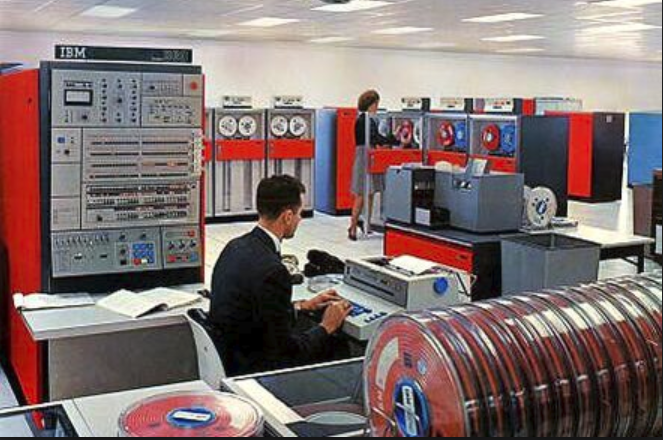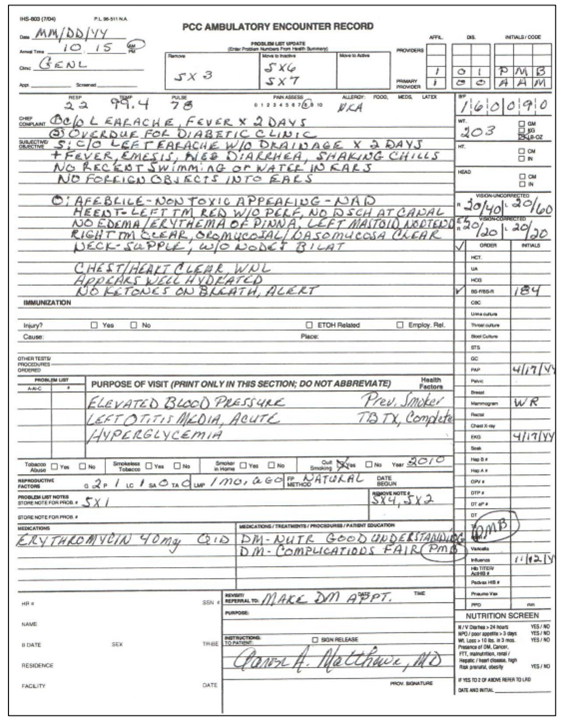 PCIS consisted of the following components (printed on a health summary):
Demographics
Problem List
Lab Results
Dental
Behavioral Health
Community Health Representatives/Village Aides
Measurements
Immunizations and Skin Test
Diagnoses
Medications
Health Maintenance Reminders
Initial PCIS Implementation in Tucson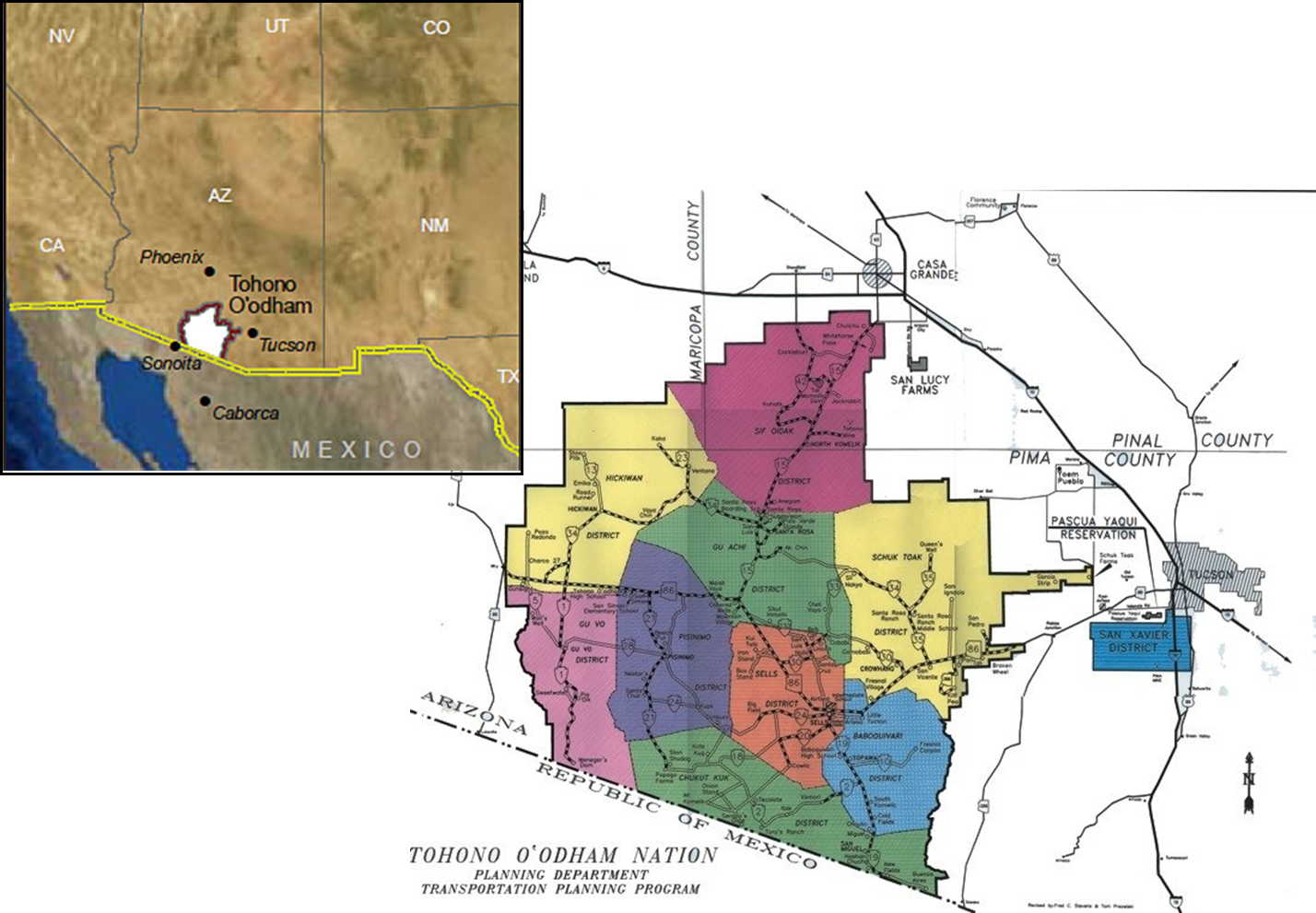 HIS/PCIS was implemented first in July 1969 at 4 facilities on the Tohona O'odham Reservation: Sells Hospital, San Xavier Health Center, San Rosa Health Center and Pisinimo Health Center
The initial system collected outpatient data through encounter forms that were delivered to Tucson by courier. The structured form contained fields for vital signs, test results, purpose of visits, treatments, and a note in a SOAP format. A variation of this form exists to this day. Initially, Rebeau contracted with the Texas penal system for data entry; the yellow copy of the triplicate was sent by mail there, the data was keyed in by prisoners, and the data transferred to the mainframe owned by Bell Aerosystems over a 300-baud modem over phone couplers. This arrangement, while effective, had a turnaround time of about a month. It was eventually abandoned in favor of training tribal women to enter data for immediate access (a feature in IHS that persists to this day!). The results of the entered data was a Health Summary printed on a 100-baud dot-matrix printer. Data was available as Health Summaries via online teletype terminals at each of the facilities.
According to Lori Butcher, at some point punch cards were used for data entry.
Movement of HIS to PCIS
When IHS moved HIS from a mainframe owned by Bell Aerosystems to an IHS mainframe in Albuquerque in the early 70s, it was named PCIS. PCIS is really the same system as HIS. At this same time, dedicated telephone lines to computer systems in Albuquerque were used.
The system as initially developed lacked the ability to generate reports; soon this deficiency was addressed and real public health data was successfully extracted from the system.
PCIS Implementation in the Alaska Area and the Billings Area
PCIS was implemented in the Alaska area and Billings area in a total of 10 hospitals and 10 health clinics. However, due to logistical difficulties, data was submitted to the mainframe in Albuquerque in a different way.
In Alaska, the encounter forms were mailed to Tucson and then keyed into the system. In Billings, the encounter forms were mailed to the area office and and entered from there.
Albuquerque produced microfiche sheets and mailed these out to the Alaska and Billings areas. Actual paper health summaries were printed at the the data centers and sent to the facilities. In the meantime, only the Tucson area had a real-time connection to the mainframe computer in Albuquerque.
The People Involved in HIS/PCIS
The director of the HIS/PCIS implementation was Dr. Ted Garrett, starting at 1967, working at the time for Bell Aerosystems. The first pilot of the system was done in 1968.
The people involved:
| Name | Role | Worked for |
| --- | --- | --- |
| Ted Garrett | PM | Bell |
| Bill Mason | PM | IHS |
| Jim McArthur | DBA | Bell |
| John Guthrie | HS | Bell |
| Bob Dolan | | IHS |
| Pete Krauss | | Bell |
| Bob Vint | | ? |
In 1969, Dr. Garrett moved to IHS and became the head of the project. Bill Mason became the chief of operations at Tucson area. Jim McArthur also moved from Bell to IHS.
PCIS and an Epidemiological Success
This is when Dr. Paul Nutting comes into the picture. (see Annals of Family Medicine 1:180-181 (2003)) Dr. Nutting was a pediatrician by training, and started his career in Indian Health Service. He had a strong interest in population-based research, and initially addressed the causes of infant mortality. According to Dr. Shorr, the infant mortality rate in the Tucson area reservations was 65 per 1000, 90% of which was due to infant gastroenteritis. (Dr. Shorr described his experiences to me as a physician at the time, and his first experience with a mom bringing her child stone cold to him.) Dr. Nutting contacted the World Health Organization for information and help. WHO described a recent concoction of sugar, salt and water for rehydrating children; but declined Dr. Nutting's request for information on the predictive factors of death in infants.
Instead, Dr. Nutting and his team went to IHS pediatricians. He collected from the Health Information System 40 factors that are measured on the infants, and asked the IHS pediatricians to choose which ones were most likely to be correlated with infant mortality due to gastroenteritis. In 1973-74, regression analyses were conducted using those factors, and on these bases, a community health education program was launched based on the risk factors identified. This program utilized Village Health Workers to teach sanitation, care of infants during episodes of gastroenteritis, and hydration using the WHO rehydration formula.
Dr. Shorr says that there did not seem to him to be any day-to-day results; in 6 months, though, a priest happened to inquire why he had not been burying infants lately. In fact, when the data came in, the program was judged to be a great success; it proved instrumental in procuring congressional funding for more Village Health Workers. These Village Health Workers are the precursors to the present-day Community Health Representatives who play such an important part in today's health care to American Indians.
Significance of PCIS
PCIS was the first system of its kind except for COSTAR which ran at Massachusetts General Hospital. Its use in proactive epidemiology was the very first in Public Health anywhere in the world.
PCIS References
More information on PCIS can be found in Dr. Garrett's paper in the Proceedings of the 3rd Annual Symposium on Computer Applications in Medical Care, pp.856- 858, available online at http://www.ncbi.nlm.nih.gov/pmc/articles/PMC2231902/pdf/procascamc00013-0862.pdf and Dr. Curtis's article "Using DHCP Technology in Another Public Environment" in Kolodner, RM "Computerizing Large Integrated Health Networks".
PCIS and RADEN: Sequelae and Lessons for the future
PCIS's reliance on mainframe and non-DBMS technology made PCIS too expensive and inflexible for widespread implementation, as well as a constant targets for cutbacks. PCIS was never deployed beyond the three areas mentioned above. RADEN, the other computer system used in IHS, was difficult to move from its aging platform without a massive and expensive conversion effort. From this emerged three lessons for the future:
Any system needs to be decentralized to the point of patient care;
Any system needs to be vendor-independent and portable across hardwares; and
There needs to be more local control over data systems.
Notwithstanding the problems encountered with PCIS, it ended up having a long life, only being sunsetted in the mid 90's.
These principles were enshrined in IHS's first 5-year strategic plan for information systems developed in 1983.
The initial push for RPMS
Sources: Dr. Curtis conversation and book, Bill Mason
In 1983, a committee of Information System Center representatives from the 10 regions met and decided on modernizing PCIS under the impetus of a Health Resources and Services Administration (HRSA) directive to find a cost accounting system for the agency. A survey of commercial systems carried out in response to the directive failed to identify any suitable system to be purchased. However, the survey made IHS aware of aware of the VA's DHCP, functioning in a fairly early stage in most of the VA Hospitals, including ADT, Scheduling, Pharmacy, Registration, Kernel, and Fileman v12. It was looked at for close to a year.
Dr. Wilford was the chair of the Information Systems Strategic Planning group. It included Bill Mason and Dave Bolec. Almost at the same time, the ISC post and the ISAC (Information Systems Advisory Council) was created.
In April 1984, Marty Ivers, director of the VA Center in San Francisco, talked to the ISAC group. The decision was then made to bring DHCP into IHS and leverage the VA investment. This recommendation was forwarded to IHS headquarters and approved. Dr. Walt Wolford, a dentist, the head of IHS Information Systems, was instrumental in this approval.
A new acronym was chosen, RPMS (Resource and Patient Management System) to indicate that this was a different system. There was a great interest in longitudinal records, especially due to the legacy of Health Summaries and Encounter Forms in PCIS.
RPMS Development
Initial RPMS Development
Sources: Bill Mason and Clayton Curtis (book and conversation)
Development started informally in 1983, and officially in 1984. When RPMS was being developed, Dr. Garret and Jim McArthur moved to Albuquerque from Tucson. Dr. Garret was formally the head of the RPMS project. Jim was the head of Development in Albuquerque; Bill Mason in Tucson, David Selby in Oklahoma. Staffing in the 3 centers was not equal to the staffing at a single VA development center.
According to Mr. Mason, the number of developers in the beginning of RPMS is as follows: * Albuquerque - 7 developers * Tucson - 7 developers * Oklahoma - 3 developers
The developers of the Patient Care Component, what was PCIS and now an integral part of RPMS, were all based on Tucson. They are: - Bill Mason - Clayton Curtis - Don Enos - Lori Butcher.
PCC was developed between 1983 and 1985.
As a side note, Lori has become the most prolific and important developer in RPMS. Today she is the primary developer of 10 RPMS modules, including: - PCC - Behavioral Health - Diabetes Management System - Community Health Representative System - Uniform Data System - National Warehouse Data Export - Clinical Reporting System (CRS) - Government Performance Reporting Act (GPRA)
Patient Registration was developed in Oklahoma between 1983-1984 by Larry Dillingham. Outpatient Pharmacy was ported from VISTA by Jim McCain in Tucson. Scheduling was ported from VISTA by Christine Saddler in Alaska in 1985.
Bill Mason still has the first signed Health Summary ever produced on RPMS, (which he searched for to give me an exact date: May 27th 1986). Dr. Curtis was the developer of the Health Summary.
PCC Development, an excursion
Sources: Clayton Curtis, Lori Butcher, Bill Mason
The first step of starting with RPMS was loading all the legacy data located in PCIS. The data structure to hold that, the Patient Care Component (PCC), was invented by Clayton Curtis, Don Enos, and Bill Mason.
According to Dr. Curtis, it had the following goals: * Support front-line providers with generic capabilities * Meet longitudinal care goals common in IHS ambulatory settings * Integrate patient data from multiple disciplines and sources, even if they originated outside of IHS. * Provide reporting capabilities for administration. * Provide an index on the patient's health
The development of PCC did not come about from a management directive; rather, it reflected the realities of a small rural and mobile patient population.
Don Enos, Bob Dolan, Clayton Curtis, and Greg Shorr got help from Michael Distaso with designing the VISIT file. George Timson (personal conversation) said that he added forward and backwards relational navigation to Fileman at the time accommodate the VISIT file design. The VISIT file and its associated "V" files were the first expression of a relational idiom to data stored in Fileman, and Fileman's relational capabilities had to be developed specifically for these files.
Lori related how they came up with the name for V Files. While she was working with the Fileman input templates, the Visit File for Measurements (the equivalent to VISTA vitals) was named the same as the main file containing Measurement types. Both were called "Measurement". After consulting, the PCC team decided to rename the Measurements and any other Visit Data file to be prefixed by V. V MEASUREMENT, V PROVIDER, V POV were born. What's remarkable is that once the V File structure was developed, it hasn't changed.
While not belonging to the V Files, the Problem list, a core component of PCIS, was one of the first files to be developed in PCC. Its purpose is to act as a communication tool among providers.
At the same time as the development of PCC, almost hand in hand, Clayton Curtis designed the Health Summary to replicate what PCIS had as one of its core components.
Name and Numberspace
Lori says that Cameron Schlehuber, the longtime VA DBA, gave IHS the numberspace 9,000,000 to 9,999,999. As they expanded, they were also given 90,000 to 99,999. For namespaces, they initially were like VA sites in getting A for local development. Eventually, IHS got B as a whole for all RPMS development.
The unusual role of clinicians in the development of RPMS
Source: Bill Mason
Most of the development staff Bill Mason oversaw in Tucson were former or current Health Care providers: - Greg Shorr, MD, Physician - C Clayton Curtis, MD, Physician - David Grau, DMS, Dentist - Tom Love, a Public Health Nurse - Jim McCain, RPh, a Pharmacist - Diane Lopez, Medical Records Administrator, an analyst - Jason Lockwood, a Lab Tech - Stanley Griffith, MD, Physician, an analyst
Non-clinicians also provided key contributions: - Aline Purnell, analyst - Don Enos, health analytics researcher, programmer - Lori Butcher, health analytics researcher, programmer
Hardware and Software Platforms on which RPMS was deployed
Source: Bill Mason
RPMS was initially installed on PDP-11 clones Plessy Peripheral systems, which were DEC clones. One area used Burrows mini-computers; but most other areas decided to use what Tucson had. There was no TCP/IP back then; users used dumb terminals running at 300-500 baud. The MUMPS implementations used were MSM, DSM or Intersystems. Each area could pick which system to use. Tucson used DSM. The only area that used a DEC was Alaska.
(Skipping ahead: the next computers to be used in the early 90's were IBM RISC mini-computers. Unlike the earlier incarnations of DECs, they were a Unix operating system and MUMPS had to run as program on the operating system, rather then being the operating system itself. Mid-90's and further, LANs and PCs came to dominate. Current RPMS MUMPS environments run on Cache on MS Windows and IBM AIX.)
Important Second-Generation PCC Applications
Source: Bill Mason
A couple of important applications that were developed in the 80's bear mentioning as they constitute foundational philosophies of the RPMS software as a population based Medical Record. These are: - Query Manager (Q-Man), developed by Dr. Greg Shorr, an interactive query tool into RPMS. - Visit Generator (VGEN)/Patient Generator (PGEN), a more SQL-like approach to searching the RPMS database.
Inpatient Components of RPMS
Source: Lori Butcher, Chris Saddler, Linda Fells
RPMS was an Outpatient System from the outset. However, IHS has several hospitals; RPMS needed some inpatient facilities. Because of Alaska Native Medical Center's (ANMC) involvement at the outset, its programmers did that work. The main programmers at ANMC were Christine Saddler (an infection control nurse) and Michael Schallock (a pharmacist).
Just as RPMS was getting started, ANMC developed an admission package written in COBOL that ran on a WANG PS 100. It had 100 MB of disk space and 32 terminals that could be hooked into it.
As mentioned in an earlier section, Ms. Saddler ported Scheduling from DHCP to RPMS in 1985.
Linda Fells ported ADT from DHCP to RPMS in 1986 to 87.
Ms. Saddler ported Inpatient Pharmacy from DHCP to RPMS in the late 80's.
IHS-VA Cooperation
Source: Clayton Curtis, Bill Mason
There was a tremendous relationship with the VA. All of IHS developers worked with the San Francisco and Salt Lake City Development Center and they made many contributions to VA Kernel, VA Fileman, and VA Mailman. In 1986, the San Francisco ISC asked IHS for a formal Interagency Agreement. This was the first VA-IHS Interagency Agreement. Clayton Curtis wrote this agreement, which was renewed a few times.
In 1988-9, the VA formed the Clinical Application Requirements Group, headed by Dr. Kolodner. Clayton Curtis was the IHS representative.
The group helped developed spec for Fileman v 17 and network mailman.
In 1994, Dr. Curtis became the chair of the Clinical Applications Requirements Group.
Initial Deployment of RPMS
Source: Jim Garvie, Lori Butcher, Bill Mason
The Tucson area sites were the first to implement PCC and registration; some other sites implemented registration only; most of that happened in 1986.
Convincing a first site to implement RPMS was difficult. Due to the interest of the Cherokee Hospital Leadership, as well the Nashville Area CIO, James Garvie, Cherokee Hospital was the first site to implement the full production RPMS outside of the testing sites in Tucson and Alaska Native Medical Center.
At the outset, Mr. Garvie worked closely with Bill Mason and demonstrated early RPMS to the Cherokee staff. Jim Mills, the Service Unit Director, made the trip to Tucson to see RPMS in action; and he scheduled his staff to see it. The Clinical Director, George Graning, and his wife, Mary Ann Ferrel, were practicing physicians that helped establish RPMS in Cherokee. Floyd Dennis played a critical role in supporting the implementation in Cherokee. James Miller was the first Site Manager for Cherokee; indeed, he was the first Site Manager at any RPMS Site.
A funny story that emerged out of the implementation is that prior to the implementation team having dinner that day, a few members (including Floyd Dennis and Diana Lopez) got into a car accident, which we are told was not serious. They were taken to the Cherokee Hospital, where PCC implementation was set to start at midnight. Floyd and the others were offered the chance to be the first patients on which PCC forms would be filled out. They declined!
To this day, the Cherokee Hospital is a center for RPMS demonstration and training.
At the outset, only outpatient functionality was implemented in RPMS in Cherokee. From 1987 to 1988, Linda Fells at ANMC ported over some inpatient software from VISTA to RPMS. The ADT module was ported, but rather than rely on the VA-Centric Patient Treatment File (PTF), it was hooked to a new Visit file call V HOSPITALIZATION. Christine Saddler, also at ANMC, ported over Inpatient Pharmacy from VISTA.
An observant reader would notice that two core packages from RPMS are missing: Lab and Radiology. Lab was ported to RPMS in the late 80's by Christine Saddler. Frank Stalling from the VA was instrumental in helping port over Lab. Randy Frommater (also from the VA) helped with configuring connectors to Lab Machines. VISTA Radiology actually never really made it into RPMS until about 2002.
By 1988, RPMS was operational in the Tucson Area sites, in Alaska Area sites, and in Nashville sites.
The long road to nationwide deployment
Source: Lori Butcher, Howard Hays
There was no push to implement RPMS quickly after the first deployments. Where there was a push, it was done hand in hand with healthcare quality improvement. RPMS was pitched as a system to improve the quality of patient health. One of the longest-lived efforts was known as "Industrial Strength Triage". It was headed by Dr. Greg Shorr (a longtime IHS physician, and an RPMS developer). This is a way of doing visit planning based on protocols depending on how the patient presented. This process depended on and utilized RPMS, especially the Health Summary. Dr. Howard Hays (a physician) and Elizabeth Dickie (a nurse) assisted Dr. Shorr with Industrial Strength Triage implementation starting in the early 1990's. Dr. Shorr was instrumental in training the future leaders of IHS RPMS development.
Mostly, the 1990's for RPMS was a period of consolidation and implementation. By 1993, a GAO report http://www.gao.gov/assets/80/78677.pdf estimated that there were 229 sites operational with RPMS. However, even by 2000, there were some sites who had not yet implemented PCC.
All in all, RPMS took about 15 years to be deployed to federal sites and interested tribal sites.
RPMS Software developed in the 1990's
Source: Lori Butcher, Howard Hays, Theresa Cullen, Christine Saddler, Linda Fells
Flagship RPMS population health queries were developed in the late 1980's and the early 1990's. The first application of its kind was Query Manager (popularly know as Q-Man), written by Dr. Shorr in 1988-89. In the early 90's, Lori Butcher wrote the Visit Generator and the Patient Generator (VGEN and PGEN). The Diabetes Audit application was already written (also by Ms. Butcher) in the late 80's. These tools were the forerunners to the GPRA Plus programs, which will be presented later. In the meantime, from 1994 to 1999, the CDC was very interested in using RPMS reporting capabilities to track several epidemics, including epidemics for Pertussis, Hepatitis A, and Shigella. RPMS enabled several police departments to track the incidence of domestic violence as that was a PCC item captured by RPMS sites.
Another prolific RPMS programmer, Michael Remillard, produced many applications. These notably include Immunizations (which in the author's opinion is the crown jewel of RPMS) and Women's Health.
In the mid 1990's, Dr. Shorr, in one of many forthcoming comebacks, developed PCC-Plus. PCC-Plus was a program to print the encounter forms that providers filled out pre- populated with RPMS data. Due to its use of Microsoft Word's mail merge, it was able to use pleasing fonts rather than fixed-width fonts common to unformatted text. It should be noted that the PCC-Plus forms enabled clinicians to more easily carry out Dr. Shorr's vision of "Industrial Strength Triage" as they did not have to locate a health summary anymore: the actual encounter form was also the health summary.
In the 1990's, Pharmacy Point of Sale was developed. Electronic billing for insurances, Medicare, Medicaid was done via the new Accounts Receivable and Third Party Billing packages. These packages were initially developed by Michael Danielson.
The Mental Health system, MHSS, one of the first fully electronic records in the country, was released in 1992.
According to F.J. Evans, he developed the very first TCP broker implementation. The software utilizing that implementation, IHS Patient Chart, came in 1998.
Linda Fells wrote a Prenatal module that was never certified in RPMS.
GPRA and GPRA Reporting
Source: Howard Hays and Theresa Cullen
Government Performance and Results Act (GPRA) was a Clinton-era legislation enacted in 1993. For IHS, in practice, it meant that if you are a Federal site, you must prove that you are working properly. You measure yourself manually and report that. There are a set of measurements that have been designated by IHS for GPRA (e.g. number of tobacco screenings). These measurements were done manually via random chart audits.
Upon the suggestion of a Nurse located in the Aberdeen area, who noticed that most of the GPRA measures were extractable from RPMS, the Aberdeen area did the development for GPRA+, which checks RPMS for the measurements rather than have the checks be done manually. ITSC (the current name of the IHS division that develops RPMS) took over GPRA+ in 2002. The Clinical Reporting System (CRS) as it was eventually known, was released once every year. Dr. Stan Griffith was instrumental in its implementation.
The existence of CRS was only possible due to the existence of Q-Man, VGEN and PGEN.
CRS won the Davies award in HIMSS for RPMS in 2005. The Davies award was also given for Cherokee's use of EHR, RPMS and CRS.
The search for a fully Electronic Health Record
Source: Howard Hays
Unlike VISTA, RPMS was designed to be very low-tech for its users. Providing a front end to providers was not a priority in RPMS development. That started changing in the beginning of the 2000's.
The Physician Specialty Group, the group that evaluated software for physicians for inclusion into RPMS, hosted a demo of a Windows GUI software on top of VISTA called "VistAtion" in 2000. Mike Danielson was responsible for bringing it to the attention of the group; he met the creator in a VA Information Technology Conference in Austin where it was demoed.
VistAtion was created by Dr. Douglas Martin, a prolific writer of VISTA software (his team's creations include the CIRN Clinical Data Repository; GUI Mail; an early implementation of reminder dialogs/order checking) at the Indianapolis VA. VistAtion was designed as a modular alternative to CPRS. VistAtion was never deployed in the VA due to political pressures against it.
VistAtion was written in Delphi, like CPRS; however, it loaded COM (i.e. ActiveX) objects as components into a central framework. The COM objects can be written in any language that supports creation of COM objects.
In 2002, in the Billings area, Mike Danielson and Robert Byron connected with Dr. Douglas Martin and his company Clinical Informatics Associates (CIA) to conduct a pilot of VistAtion in the Crow Hospital.
Dr. Douglas Martin, Dick Roskam, and Phillip Salmon formed CIA after they left the VA. In 2002, VistAtion, now known as VueCentric, was implemented in the Crow Hospital with very limited functionality, being used only by one or two providers in the inpatient setting.
Decisions decisions
Source: Howard Hays
In the summer of 2002, the Area Director for the Billings area, Dewayne Genone, was very impressed with VueCentric during a visit to the Crow Hospital and thought that the rest of IHS should use it. As fate would have it, he got reassigned to a senior position in IHS Headquarters.
Russel Pittman, head of the Albuquerque ISC, asked Dr. Hays to take a look at VueCentric. It was functioning in Crow in a very rudimentary capacity and was only being used by two clinicians.
In 2003, in the National Combined Councils meeting, a discussion took place on what GUI front-end should clinicians use in RPMS. F.J. Evans pitched Patient Chart, a currently functioning GUI software for RPMS that he created. Others pitched VueCentic; but the concern was that VueCentric was at CPRS version 20 compared to what the VA was currently using, version 24.
In 2003, the marching orders came to explore VueCentric for adoption by IHS. Some of the people involved in the early exploration included Roy Willie, Chris changes that was deemed necessary in RPMS was the implementation of Pharmacy 7.
In September 2003, Dr. Charles Grimm, the IHS Director, made a public statement that 20 Federal Sites will implement RPMS-EHR (the new name for the VueCentric GUI) by 2005; and all of them would be on it by 2008. This statement was made despite the fact that the VueCentric at the time was only running in a limited capacity at the Crow Hospital. This was a hard deadline to meet.
Programming RPMS-EHR
Source: Howard Hays, and personal experience
RPMS-EHR was developed from Fall of 2003 to Summer of 2004. Dr. Hays was in charge of programming for RPMS-EHR.
From Fall 2003 to 2004, development was a scramble to get everything working.
As VistAtion was a pure VISTA product, it did not communicate with PCC. The PCC components and Remote Procedures for these were written by Mike Danielson in Visual Basic COM objects as a front end. These included all the Visit components, Immunizations, and the Problem List, as the VA had modified the Problem List package since it has received it from RPMS.
Christine Saddler ported over the Radiology package and implemented Code Set Versioning.
Linda Fells performed the necessary upgrades to PIMS and ported TIU to RPMS.
Pharmacy 7 adaptation to RPMS was done by Phil Salmon.
Phil Salmon was responsible for the installation of the software at IHS sites.
Douglas Martin was in charge of the overall front end changes required for VA packages to work with RPMS.
Mary Hager did a lot of the VA Health Summary work and Reminders work.
Douglas Martin and Phil Salmon developed a virgin version of RPMS for training, the very first of its kind. All previous training versions of RPMS were scrambled RPMS database; a clean version of an RPMS database didn't exist.
Pam Schweitzer was in charge of File Boxes of Test Scripts.
In late 2004, there were 7 test sites, including Warm Springs, Cherokee, and Fort Defiance.
Deploying RPMS-EHR
Source: Howard Hays, personal experience
To implement RPMS-EHR, training and outreach was assigned to David Taylor. Each area had to come up with sites. In the end, twenty sites were implemented by the end of 2005, meeting the deadline set by Dr. Grimm.
A comprehensive plan and roadmap were laid out to sites for implementation. Implementation was self-driven, with limited national IHS assistance.
At the time RPMS-EHR was deployed, Keith Longie was the CIO and Jim Garvie was Acting Deputy Director for the Office of Information Technology (OIT).
In 2006, Medsphere acquired CIA.
Enhancing Population Health Tools
Source: Howard Hays, Greg Shorr
In the meantime, while RPMS-EHR was being implemented, development of better population health tools was being spearheaded by Dr. Cullen, at the time the CIO for IHS.
iCare
Work on prototype for a GUI for HIV Management was started by Dr. Horace Whitt, a dentist, based on Dr. Cullen's ideas. Following his retirement, it was contracted to DAOU. The initial results were disappointing; IHS asked for a new development team. DAOU assigned Eric Perreli, Arlis Acord, and Bill Williams. HMS eventually grew into the IHS population management GUI called iCare. On the IHS side, the project was run by Cynthia Gebremariam, Dr. Cullen, and Linda Bethea.
DAOU was acquired by Proxicom, who was acquired by Vangent, who was acquired by GDIT. However, the team supporting iCare has stayed the same.
iCare 1.0 was released in the summer of 2007.
GUIs for other people
Scheduling GUI
Source: Personal experience, Greg Shorr
Horace Whitt's greatest contribution was creating a Scheduling GUI for RPMS that was written from the ground up. This was released in 2006. Dr. Whitt also created a new broker for RPMS to accommodate the needs of Microsoft .Net ADO.net data structures to use in the Scheduling GUI. Dr. Shorr participated in the broker project.
Registration GUI
Source: Howard Hays
More recently, a registration GUI has been written.
Filling in the Gaps in RPMS
Source: Susan Pierce, Greg Shorr
Moving from a paper-based system to an electronic system meant losing some of the flexibility of paper. Some of these applications were very resistant to being computerized; if they were, TIU notes were used, which unfortunately do not code the data at all.
Well-Child Module
Dr. Greg Shorr, in another comeback, developed the Well-Child module. Because the questionnaire-oriented forms had no equivalent in VISTA (outside of the new VISTA Mental Health packages), they had to wait following the deployment of RPMS-EHR. The Well-Child module used the broker that Dr. Whitt wrote.
Prenatal Module
We mentioned that Linda Fells created the first version of the Prenatal Module in the late 1990s. Prenatal care is a notoriously hard area to computerize. Dr. Shorr (again!) did the programming for the Prenatal care module. All in all, the software was rejected 3 more times (in addition to the time that Linda Fells worked on it) until it was deemed usable enough to be included in RPMS.
Optometry Support
This is another area which has no VISTA equivalent. RPMS has recently added limited Optometry support to help document Optometry readings as structured data.
RPMS beyond IHS
Source: Jim Garvie, Jack Schaffer, Chris Uyehara
The Community Health Clinics of West Virginia was a prospective pilot site for the Vista Office Project. The parties involved didn't like the poor support of VISTA for Pediatrics. They saw RPMS, and hired Medsphere to implement it. However, this implementation did not last for too long. Due to the high costs of supporting RPMS, and the difficulty of configuring the practice management systems in RPMS in a private sector setting, the clinics eventually started dropping RPMS in favor of Athena Health. In the end, the decision to leave RPMS was a difficult one but was made primarily to have better billing functionality in Athena Health.
Most of the Hawaii public health system uses RPMS. It is not known how they got started. Hawaii clinics using RPMS, unlike the West Virginia clinics, actually were already using VISTA from the Vista Office Project. Again, due to the poor support of VISTA for Pediatrics, Women's Health, and in addition due to the lack of Patient Management modules in VISTA, the clinics and hospital moved to RPMS.
Some clinics in American Guam run RPMS.
What does the future hold?
RPMS has been very strong with keeping current with Federal requirements. It was the first VISTA-related EHR to be certified for Meaningful Use Stage I, and it will be the first to certify for Stage II. It is continuously being improved with visible changes year to year.
However, one thing that has really hurt RPMS is the lack of able and competent support inside and outside of IHS, plus the cost that it takes to support it.
One of the flagship sites running RPMS, Alaska Native Medical Center, switched to Cerner in the mid-2000s due to the fact that they were actually supporting RPMS with heavy modifications and heavy imports from VISTA. It's not known how well this is working out for them.
Tribal sites, unlike Federal Sites, do not have to run RPMS. Many of them, especially those located in California, use NextGen.
Lessons learned about RPMS development and Support
If I may be permitted a bit of editorializing, here are a few lessons about RPMS development:
It's possible to fork VISTA and keep in sync with it as it is updated. You do need a long term commitment and good expertise to do it.
The development of RPMS costs about 1/100th of the development of VISTA. Ironically, RPMS software is frequently of higher quality than VISTA software.
Support has always been the achilles heel of RPMS.
Most of the software developers in the RPMS world have been women.
References
In person and phone conversations with:
Dr. Howard Hays
Dr. Theresa Cullen
Dr. Greg Shorr
Dr. A. Clayton Curtis
James Garvie
Chistopher Uyehara
Jack Schaffer
Lori Butcher
Bill Mason
Christine Saddler
Linda Fells
Curtis, CA. "Using DHCP Technology in Another Public Environment" in Kolodner, RM Ed. 'Computerizing Large Integrated Health Networks: The VA Success'. Springer, New York, 1997.
Garrat, A. 1979. An information system for ambulatory care. 'Proceedings of the 3rd Annual Symposium on Computer Applications in Medical Care', pp. 856-858.
GAO Report "FEDERAL HEALTH CARE: Increased Information System Sharing Could Improve Service, Reduce Costs". Published June 1993. Available at http://www.gao.gov/assets/80/78677.pdf